The Cheltenham Festival is undoubtedly the most popular horse racing event in the United Kingdom, attracting fans and punters of all ability levels. This is why the best bookies have a variety of promotions running throughout the Festival for new and existing customers.
Major races like the Cheltenham Gold Cup capture punters' curiosity, and with some fantastic sign-up deals and free bets available, there's something for everyone, with various stakes and wagering requirements for each promotion.
Our top teams look at all the best online betting sites and offers around so you can find something perfect for you.
Find out our tips for the best Cheltenham Betting offers 2023: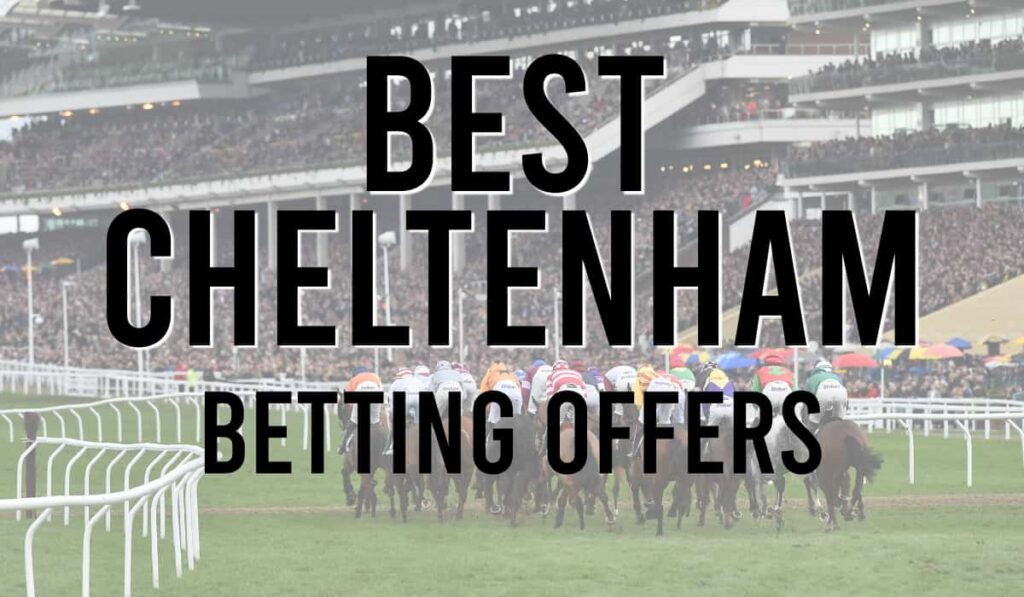 Best Betting Sites for Cheltenham 2023
Here are the best betting sites for Cheltenham Festival 2023:
All of the above have been favourably reviewed, with some having Cheltenham free bet offers, betting exchange options on Cheltenham betting markets, live streaming, various deposit methods, bonus bets on specific Cheltenham races and more for new customers. Be sure to follow the links for more information.
Cheltenham Festival 2023 Betting Tips
Looking for some great Cheltenham tips for 2023?
Our team of professional horse racing tipsters and shrewd punters in the community have created some amazing analysis for all 28 races at the 2023 Cheltenham Festival.
Check out our guides for the tipping of horses at Cheltenham this year:
The Biggest Races at the Cheltenham Festival 2023
Over the course of the week, the Cheltenham Festival offers several major Grade 1 races.
The Gold Cup, which takes place on Friday and dates back to the nineteenth century, The Stayers' Hurdle, which takes place on Thursday, The Queen Mother Champion Chase, which has always been the featured race on the 2nd day of the festival, and the Champion Hurdle, which takes place on day one, are the most prestigious hurdling events on the calendar.
The Gold Cup is the most important and well-known race at the Cheltenham Festival with huge prize money and a place in history on the line.
This Grade 1 National Hunt event consists of 22 fences over a distance of around 3 miles 212 furlongs, and the total prize fund in 2021 was close to half a million pounds (£468,750).
Cheltenham Festival Handicaps 2023
The handicap races at the Cheltenham Festival are the following:
Festival Trophy Handicap Chase
Handicap races are always competitive affairs. A handicapper determines the weight that each horse in a race should carry based on its abilities. The more weight a horse carries, the better the horse is. The theory is that by doing so, the playing field is levelled, and each horse has an equal chance of winning.
Every horse would cross the finish line at the same time in a handicapper's dream. Of course, it's never occurred before, and it's not likely to happen ever.
The reality is that horses frequently outperform their handicap, and handicappers have limited data to decide on the weight that horses will carry.
Types of Cheltenham Offers and Free Bets Available
The following are the types of offers, perks and free bets available for Cheltenham 2023:
Cheltenham Risk-free bets
Instead of free bets, some bookmakers will give risk-free bets as part of their Cheltenham promotions. Risk-free bets usually require you to place a wager and then have your stake refunded up to a certain amount if you don't win.
Cheltenham Free Bets
The free bet is the most frequent Cheltenham Festival new customer offer (Cheltenham Festival free bets promo & Cheltenham free bets). While these bets are sometimes referred to as "free," they normally require new players to make a qualifying deposit before being rewarded and are awarded in bet credits.
However, once this is completed (along with any other terms and restrictions associated with the offer), bettors are left with a bet amount that they would not have had otherwise. Cheltenham free bets (bet credits stake) are one of the most popular promos available throughout the week.
Bet-through-the-card offers with Cheltenham betting sites
This type of deal usually asks you to wager on the first race of the day in exchange for free bets on all other races at Cheltenham on the same day. A little first wager can set you up to bet for the rest of the day at the Festival for no additional cost – often six free bets.
Huge odds-on hot favourites
Instead of giving you a free bet, bookies will occasionally give extremely appealing odds on Cheltenham Festival favourites that are considered borderline unbeatable.
The maximum investment you can make at the inflated odds is normally capped, and the remainder of your earnings is usually given out in free bets. This is a festival perk and doesn't happen in general on the horse racing market.
How to Use Your Cheltenham Free Bet and Cheltenham Betting Offers?
If it's a free bet token, the first thing to look for is the expiration date (usually seven days).
The Cheltenham free bet may be restricted to a specific market or bet type and horse betting option, so be sure you know what you can do with it before using it. When you pick a selection that you can use a Free Bet on, it will usually appear on your bet slip automatically.
You can then choose whether or not to use the bonus. Alternatively, log into your online bookmaker account to see what bet bonuses you have available.
Cheltenham Festival Special Offers for Existing Customers?
When it comes to Cheltenham Festival promos, it can often feel like all the promotions and free bets are saved for new clients.
Existing account holders, on the other hand, are eligible for a variety of exclusive discounts over the Festival's four days. They frequently take the following forms:
Extra each-way Places?
Each-way bettors have been given as many as seven places at recent Festivals.
Standard place terms for each-way betting have a four-place limit, which is usually only allowed in handicap events with 16 or more runners.
Price Boosts and Enhanced Odds
When a bookmaker offers higher odds on a wager than usual as an incentive to their consumers, this is known as a price boost on horse racing betting.
Best Odds Guaranteed
Best odds guaranteed is when you take an early price or a fixed-odds price on a horse for a certain race, if the starting price is higher, you will be paid out at the biggest odds. Best odds guaranteed is available via most bookies throughout the year.
Money-back specials on Horse Racing Bets
These promos, which are usually available to existing clients (new and eligible customers) on the first race of each day at the Festival, usually offer money-back in the form of cash or a free bet if a certain event occurs.
If your horse is second to the starting price favourite, falls, or even finishes 2nd, 3rd, or 4th, this could be money back.
Non-runner no-bet special
On the 'big five' races at the Cheltenham Festival in March, bet365 has become the first bookie to promote the non-runner no-bet for UK customers.
The Unibet Champion Hurdle, the Betway Queen Mother Champion Chase, the Ryanair Chase, the Paddy Power Stayers' Hurdle, and the Cheltenham Gold Cup are among the events that will honor non-runner no bet, this is great news for ante-post punters and ante-post betting.
This is a fantastic deal in which your bet will be returned to your betting account if the horse you backed does not participate in the race.
Popular Questions
When is the Next Cheltenham Festival?
The next Cheltenham Festival takes place between Tuesday 14th March and Friday 17th March 2023.
Ante-post race betting markets are available now through your chosen online betting site.
How many races does Cheltenham have?
Cheltenham has a total of 28 races across the 4 festival days.
Which horse has won most races at Cheltenham Festival?
Between 1932 and 1936, the famous Golden Miller won the Cheltenham Gold Cup an astonishing five times.
What is the most important race at Cheltenham Festival?
The Cheltenham Gold Cup is definitely the most famous race throughout the whole festival.
Summary of The Best Cheltenham Offers 2023
The Cheltenham Festival is one of the most important racing and sporting events held annually anywhere.
With four days of top-class racing, all broadcast throughout the world, the racing is superb, legends are made and dreams come true.
Many punters love to place a wager on their favourite horses and all the top bookmakers are out in force with a host of offers. We have reviewed all the best ones (simply follow our links to find out more) or sign up and try them for yourself.
We hope you find a bookmaker you like and have a great Cheltenham Festival. Good luck!
If you have enjoyed this Best Cheltenham Offers page, here are some other articles related to Cheltenham betting you may also like:
Subjects covered in our Cheltenham betting offers guide and Cheltenham betting offers free betting guide;
Please always gamble responsibly.
Keywords and subjects covered in our Cheltenham betting sites guide: a first bet free bet with a qualifying bet for new and existing customers, free bet offers for racing bets, enhanced odds, 20 in free bets (qualifying bets needed), 30 in free bets (qualifying bets needed), free bets expire information and guidelines, racing pool bet added info, football bets excluded.