There are many reasons why you might want to close a Coral account. But if you're not sure how to delete your Coral account, here's our complete guide, which includes contact information and a step-by-step guide.
Find out how to close a Coral betting account: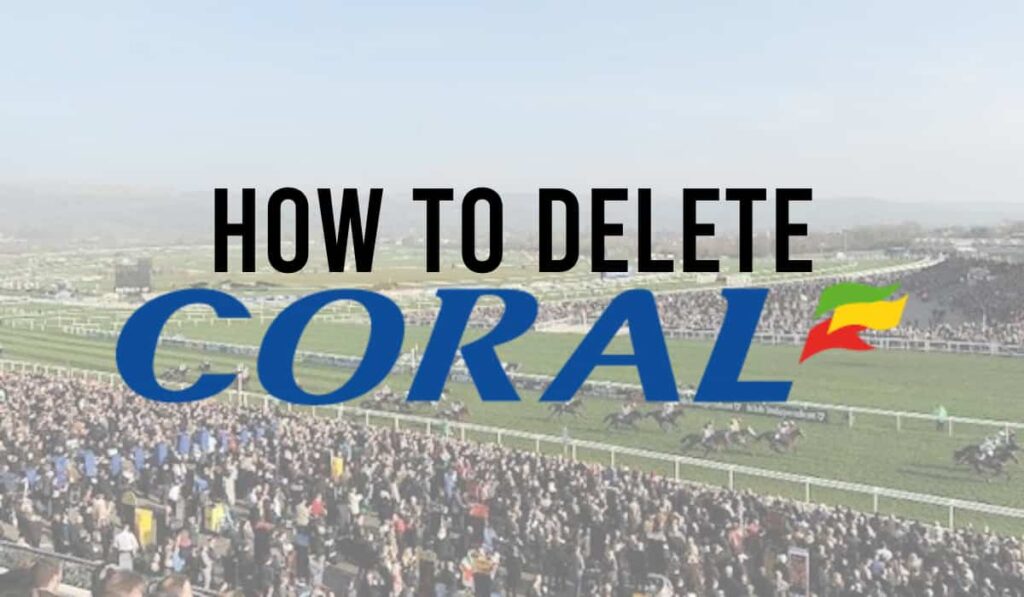 What Is Coral?
Coral is a UK website where customers can place bets, play games on sports, casino, poker, and other gambling services.
Coral allows their customers can place bets on horse racing, football, and other sports both ahead of time and in-play.
It's one of the best online bookmakers and is popular with sports fans in the UK.
Reasons To Close Your Coral Account
You might choose to delete your Coral account for many reasons. Two of the most common reasons for users to delete Coral and remove any of the information they have are to do with gambling habits and marketing. You may decide to close your account to stop receiving these messages.
Emails
As a Coral customer, you're probably used to receiving emails and marketing from Coral. They're renowned for sending regular emails, offers, and sports odds to encourage you to use the Coral website.
But if you don't bet often or if you're trying to control your gambling then their frequent emails might drive you to delete your account altogether to stop them.
Responsible Gambling
You might also choose to close your Coral account to control your gambling. If you do want to limit or control your gambling, Coral does offer a self-exclusion option, where you can lock yourself out of your account for a set amount of time.
During this time, you won't be able to log in, access my account, redeem a customer offer, use deposit methods, or place a bet.
How To Delete Coral Account
You can delete your Corals account by contacting Coral, either by email or live chat. Please contact their customer services teams using the methods below.
Coral Live Chat
You can access Coral live chat here and they should be able to assist you. You'll need to log in and have your account information to hand (like your name and date of birth – your personal details) and be prepared to explain your reason for closing your Coral account.
One of their customer service team will ask for it but be aware that they will never ask for your bank account details or other information about other payment methods.
Email
Send an email to their customer support team at: [email protected]
Use the subject line of 'Account Deletion' and try to email Coral using the email account associated with your account. Again, one of their team may ask you to confirm your details like an email address to confirm it's your account, but they will not ask about any payment method or other secure information.
How To Reopen Coral Account?
How to reopen your coral account depends on the reason you can't access it.
Self-Imposed Exclusion from Coral Bookmakers
If you placed a self-imposed ban or exclusion on your account then you will not be able to reopen it until the duration of your ban has passed. You can do this if you login to Coral account and visit their site, follow the instructions from there.
Account Deletion
If you have deleted your Coral account, you will not be able to reopen it. Deleting your account removes all your details and history from Coral.co.uk and so you won't be able to reopen it. Instead, you should be able to register using the same details to open a new account and fill in a new form.
Summary of How to Close a Coral Betting Account
As mentioned, many people to choose close a betting account for many reasons, sometimes for personal reasons or just because they want a change and new and different betting account.
Well-respected bookies such as Coral make this easy and stress-free as outlined above.
If you are closing your account due to gambling problems please seek help from professional bodies who will be able to help and advise.
Closing Other Betting Accounts
Follow the below links if you wish to close any of these accounts:
At British Racecourses, we strongly recommend responsible gambling at all times. So please always play within your means and reach out for professional advice should you need to.