We have researched and analysed the biggest bookies in the World.
The largest online bookmakers are based solely on the number of customers the betting brand has.
A betting brand with a large number of punters suggests that the online bookmaker is a safe and trusted betting site
In our biggest bookmakers guide, we list all the largest betting sites and provide both the volume of bettors and predicted monthly visitors.
Find out more about the biggest bookmakers: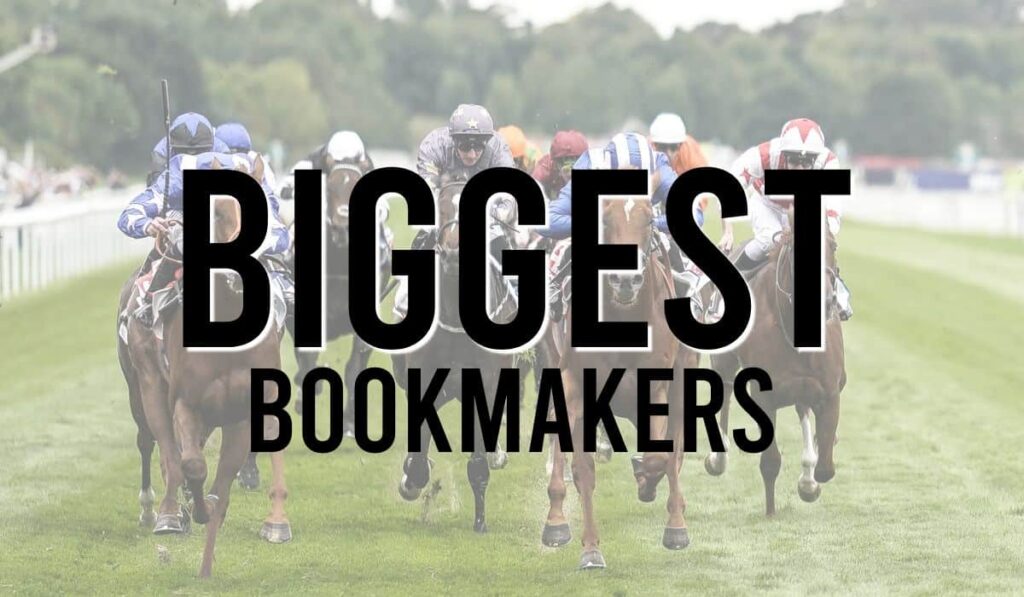 Biggest Bookies in the World
Here are the biggest bookmakers in the world (based on the volume of customers).
Bet365 Bookmaker
bet365 is the most recognised brand and officially the biggest bookmaker in the gambling world.
Bet365 has zero high-street betting shops and is an online-only bookmaker.
But with over 63,000,000 bettors with a bet365 account, they have the biggest customer database.
bet365 specialises in a huge number of sports and bettors have regularly voted bet 365 to have the highest odds on most betting markets.
The www.bet365.com website receives a massive 156 million monthly visitors.
The bet365.com is the most popular betting site in terms of traffic to the website.
If you want to learn more about the bet365 brand we recommend you check out the following articles:
Betway
Betway, set up in 2006, is an extremely popular betting brand in various countries throughout the world.
Betway has over 18,000,000 customers globally, and have won various awards for the services they offer.
Customers are able to use the Betway app on both mobile and PC, with a minimum bet of £1 in the UK.
This betting app has a huge amount of betting markets to choose from, from basketball to football, tennis, rugby, darts, cycling and much more.
For more on Betway and their services, take a look at these posts:
1xBet
1xBet are a betting brand that offer their services across the world, with over 8,000,000 customers globally.
1xBet has been going since 2010, and since then has only been growing within the gambling industry.
Offering almost all types of payment methods, from PayPal to Neteller, Skrill, Unipay and more.
This betting brand also has 24/7 customer support, so you can be sure you can get in touch with them at any time if you need to.
Parimatch
Parimatch, established in 1996, this betting company have been online since 2000, and have only be growing in popularity since.
Whilst Parimatch is only available in 3 countries, this business still has over 15,500,000 customers, which highlights just how popular it really is.
With a betting margin of 4.97%, Parimatch offer betting markets for all different types of sports, anything from football all the way sports like waterpolo and volleyball.
Have a read through these links to learn more about Parimatch:
Unibet
Unibet, one of the biggest names in sports betting, have been online since 1998 offering a variety of betting services to their over 14,000,000 customers.
With a minimum bet of only £1, customers can get involved with betting on Unibet for fairly little money.
Additionally, this particular website is available to be used in a large amount of different countries across the world, from the UK to Italy, Spain, Netherlands, Germany and more.
If you'd like to learn more about who Unibet are and what they do, please feel free to take a look at these articles:
William Hill
With a massive online following and over 2,200 betting shops across the world, William Hill is a big player in the sports betting world.
Offering almost betting markets, from football to hockey and F1, William Hill does an excellent job of keeping its over 7,000,000 customers happy with regular new promotions and offers.
And with a minimum bet of just £0.03, it's no surprise why so many people are signing up to this famous betting website.
For more on William Hill as a company, why not read through some of our other posts:
Betfair
Betfair is a betting brand with over 5,000,000 customers across the 10 countries they work in.
With live streaming and live chat available, you can rest assured that Betfair offer everything you need when it comes to the most up to date technology.
You can bet on almost all sports markets, from rugby league to snooker, football, chess and much much more.
If you'd like to find out more about Betfair, please see our links here:
Betsson
Betsson are one of the most historic betting brands around, established way back in 1963.
It wasn't until 2001 when Betsson when online, and since then has grown to having over 6,500,000 customers from various different countries.
Betsson offers 24/7 customer service for it's customers too, which is perfect for those wanting a betting brand that they can get in touch with at any time.
Paddy Power
Paddy Power, a fan favourite in the UK and Spain, has become more and more popular since it went online in 2000.
Nowadays, Paddy Power has built up over 5,000,000 customers through its innovative tongue & cheek marketing efforts, and will likely continue growing as time goes on.
Paddy Power has all the bells and whistles of a modern betting brand too, with live streaming, 24/7 support, live chat and more.
Take a look through at our useful resources for Paddy Power if you'd like to find out more:
Bwin
Bwin, a betting brand recognised by many across the world, is a company that provides an excellent service across 18 countries.
This brand has basically every sports market you can think of, so whether you're wanting to bet on volleyball, hockey, basketball, football or anything in between, Bwin have got you covered.
Established in 1999, Bwin went online just two years later, and now many of their customers use both their mobile app and website.
Betsafe
Betsafe, one of the biggest betting brand out there, have grown considerably since their conception in 2006, with over 400,000,000 customers and counting!
Available in 10 countries, Betsafe is known to offer it all, from live betting to live streaming, e-sports betting, virtual sports and more, Betsafe have got you covered.
Betsafe also has basically all payment methods you could ask for, as well as excellent live chat and 24/7 customer service options, too.
Favbet
Favbet, set up in 1999, is one of the smaller betting brands with a respectable 400,000 customers from several countries.
This brand was late to the part in terms of getting online, with their site being set up in 2012.
Nowadays, you can access Favbet on both their mobile and PC platforms.
Betfred
And finally, Betfred, one of the oldest betting brands online, was set up back in 1967.
This historic brand has over 3,000,00 customers, and offers all sorts of sports markets to bet on.
With live betting, live streaming and live chat available, this is definitely a betting brand worth taking a look at.
Be sure to see all the useful links about Betfred here:
Biggest Betting Sites In Order of Organic Traffic
Here are the top ten betting sites in order of most popular monthly visitors to the website:
bet365 – 156 million average monthly visitors
1xbet – 61 million average monthly visitors
BetUK.com – 58k average monthly visitors
Unibet – 388k average monthly visitors
21.co.uk – 36k average monthly visitors
Livescorebet – 86k average monthly visitors
Summary of The Biggest Global Bookamkers
We have looked at the biggest bookmakers in the world.
If you are looking to open an account these great bookies are certainly worth checking out.
---