Use Instagram to gain profits from sports betting with our complete guide on the best influencers to follow.
We have found 12 of the best sports bettors to follow on Instagram – use our full 2023 guide to populate your IG feed with exciting betting prospects.
It almost seems like a paradox, but once you find the right tipsters, you can take advantage of upcoming sports events.
You'll also be able to enjoy our top Telegram tipsters and the overall sports betting tipsters.
Who is the Best Sports Betting Influencer on Instagram?
The number one Instagram influencer for sports betting is David Dooley.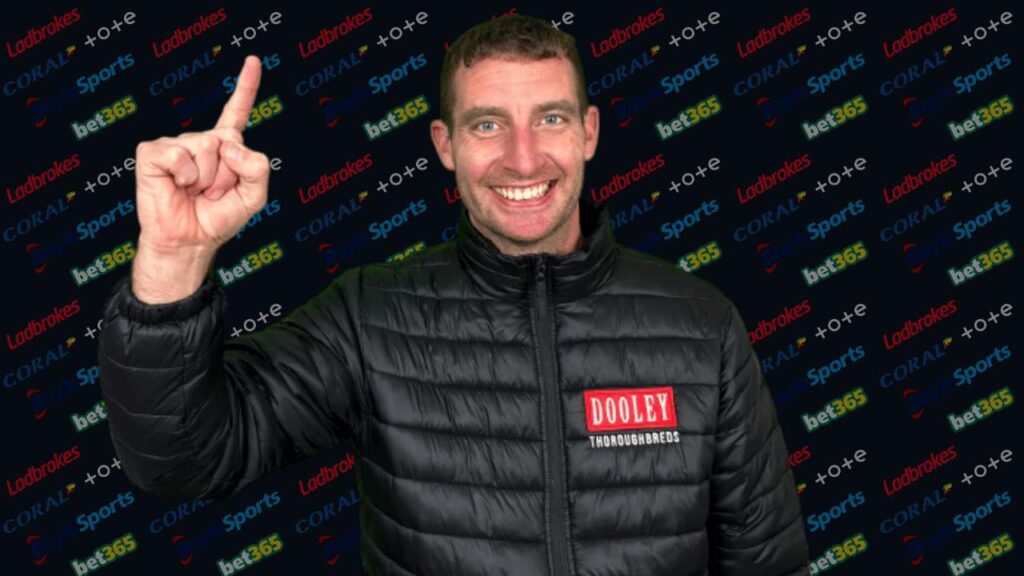 Known for David Dooley Tips, he's accrued various accolades in the gambling world – being touted as one of the top influencers for sports betting, an expert for horse racing tips and a leading sports betting tipster.
His Instagram profile bio states that he's a professional gambler, and he often shares tips and upcoming events on his feed. You'll also want to check out his IG stories as he shares his secrets moments before the race meets.
Top 12 Sports Betting Influencers
In this round-up, we help you find the best sports betting accounts to follow. Read on for our top-rated sports bettors to follow in 2023:
David Dooley Tips
David Dooley is renowned in the sports betting space for providing profitable tips. His Instagram account is new, but his knowledge of horse racing is not. Dooley is well-known for his Telegram, Twitter and website – but now you can follow free sports betting tips on Instagram.
Find more about his Telegram group for horse racing or check out his complete tips portfolio at DavidDooleyTips.co.uk.
Known for his proven track record and regular tips on upcoming races, David has a thirst for meticulously offering accurate picks.
Get NAPs and other daily picks by following his tips for gamblers – you will find all of the biggest events covered on his profile.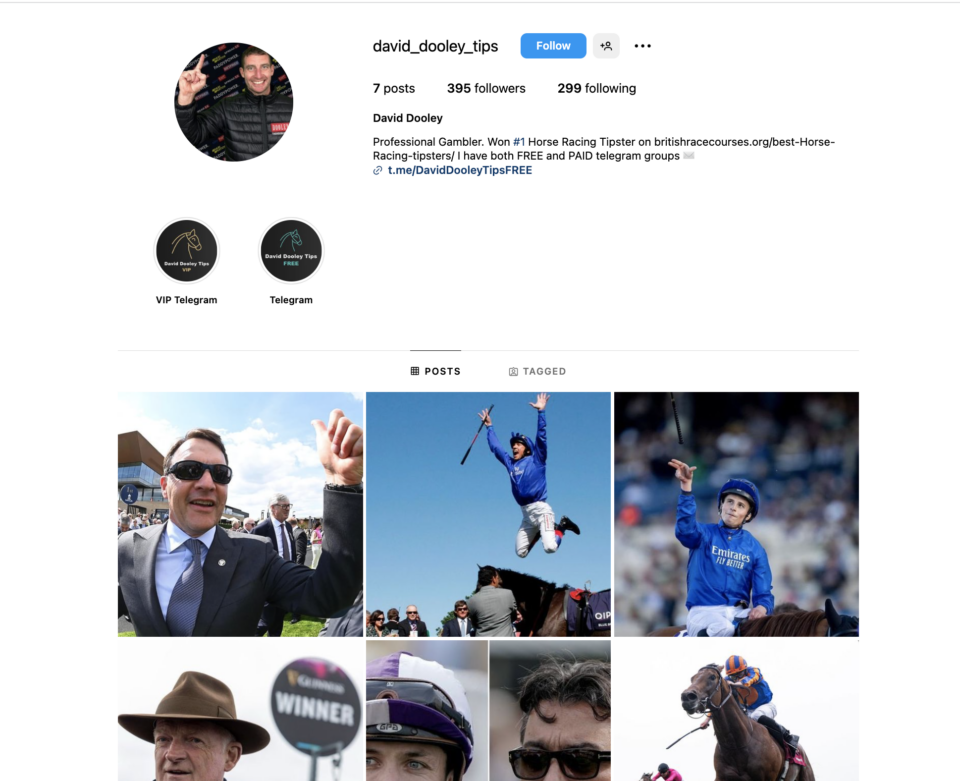 Get Your Tips Out
Handle: GYTO_HorseRacing
Speciality: Horse Racing & Tennis
Followers: 7k+
Website: GetYourTipsOut.co.uk
Get Your Tips Out (GYTO) is another reputable tipster online, mostly known for their tips on Twitter, but you can also enjoy their free tips on Instagram.
If you're looking for Instagram influencers to help you make a profit, then be sure to check out GYTO.
As well as offering expert opinions and tricks on horse race betting, you can also enjoy tennis tips. It's worth visiting their website, too, with a NAP of the day always available to help you win big.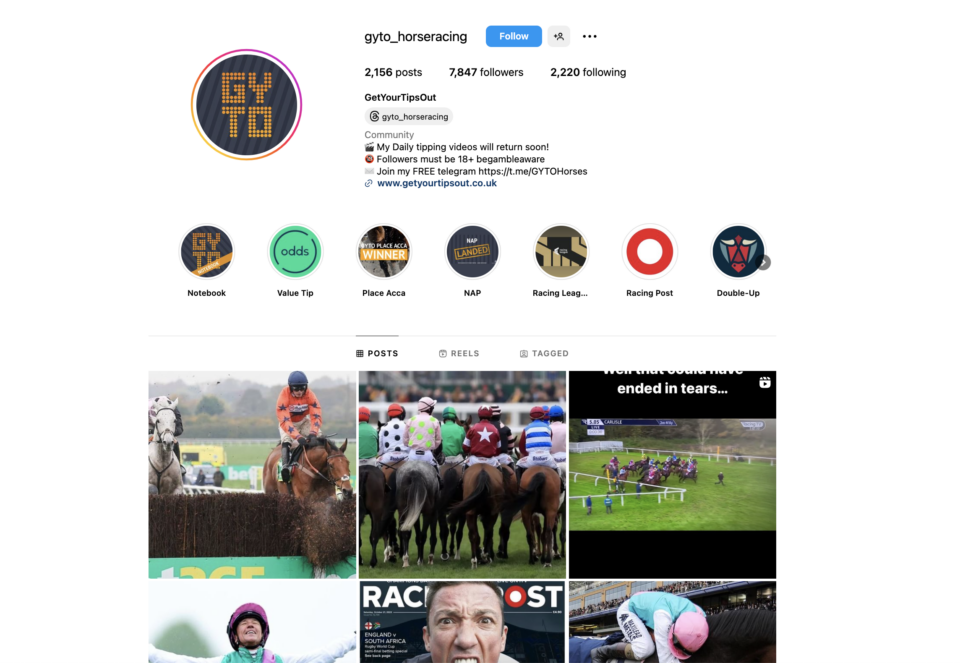 Stilian Aleksandrov
Handle: Stilian_aleksandrov1
Speciality: Football
Followers: 85.3k+
Website: Betinum.com
Stillian is the self-proclaimed number-one football tipster and ranks number 3 on our list of the best sports tipsters. It's no wonder – with £217k profits from this year already.
He aims to help you get up to £1,500 monthly from betting profits.
Check out his Instagram – you will find tips on the Premier League, La Liga, Bundesliga, Champions League and other huge competitions.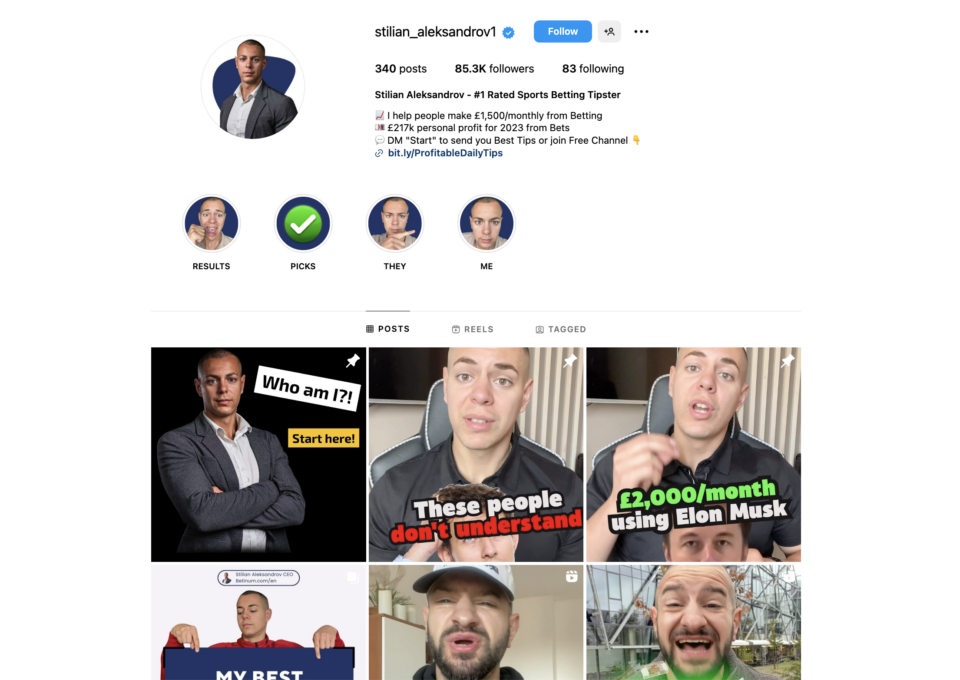 Dave Portnoy
Handle: StoolPresidente
Speciality: Pizza (seriously… he's a connoisseur) & NFL
Followers: 4m+
Website: BarstoolSports.com
Dave Portnoy is known for being the owner of BarStool and an American personality; not only does his Barstool Sports brand offer some tips and coverage of the most significant events, such as college football and MMA, but his company is also famous for its YouTube channel.
If it is the most professional sports bettor you are looking for, then this may not be the place to look, but they certainly provide fantastic entertainment and some exciting event build-up.
With Dave's substantial following and the empire he's built up, it's only fitting to include him among the top gambling influencers on social media.
You'll often find Dave on podcasts and Facebook, spreading his personal brand across the spectrum.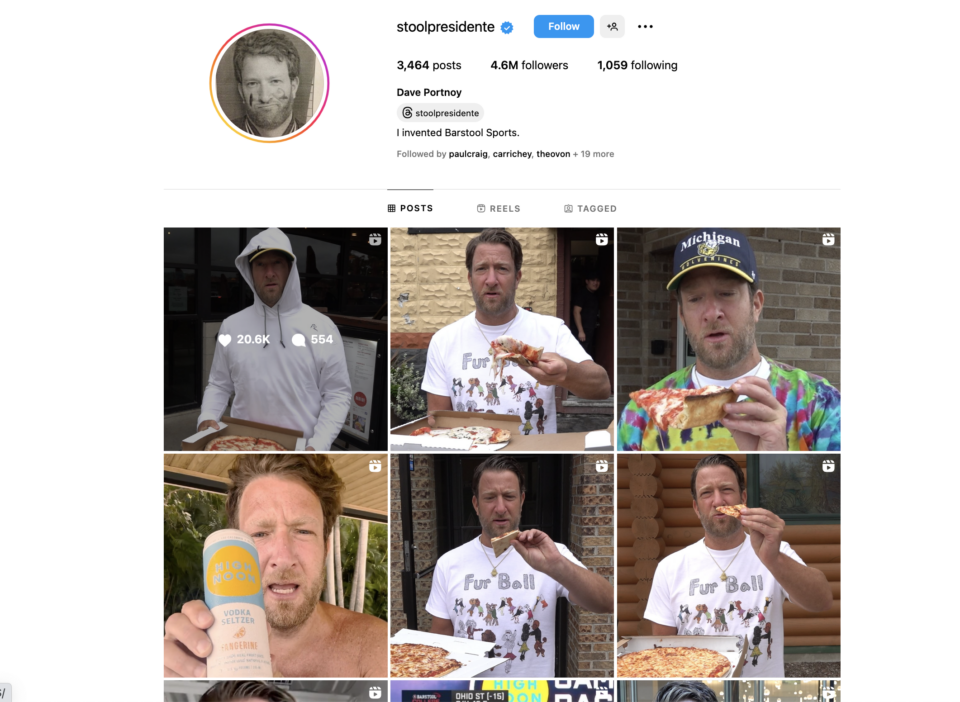 Kevin Blake
Handle: KevinBlakeRacing
Speciality: Horse Racing
Followers: 7k+
Website: N/A
Kevin Blake covers horse racing for ITV – he's a regular tipster for ITV Racing, and his niche is to provide bankers and multiple bets.
In addition to the above, he also provides his own tips and has an Instagram account. Although not like your usual Instagram influencers – he does offer some golden nuggets of information on his page.
You won't find him offering a post with exact picks, but follow his stories closely and play along with his selections.
With him having years of experience in the industry, it's worth enjoying his insight into the upcoming race meets.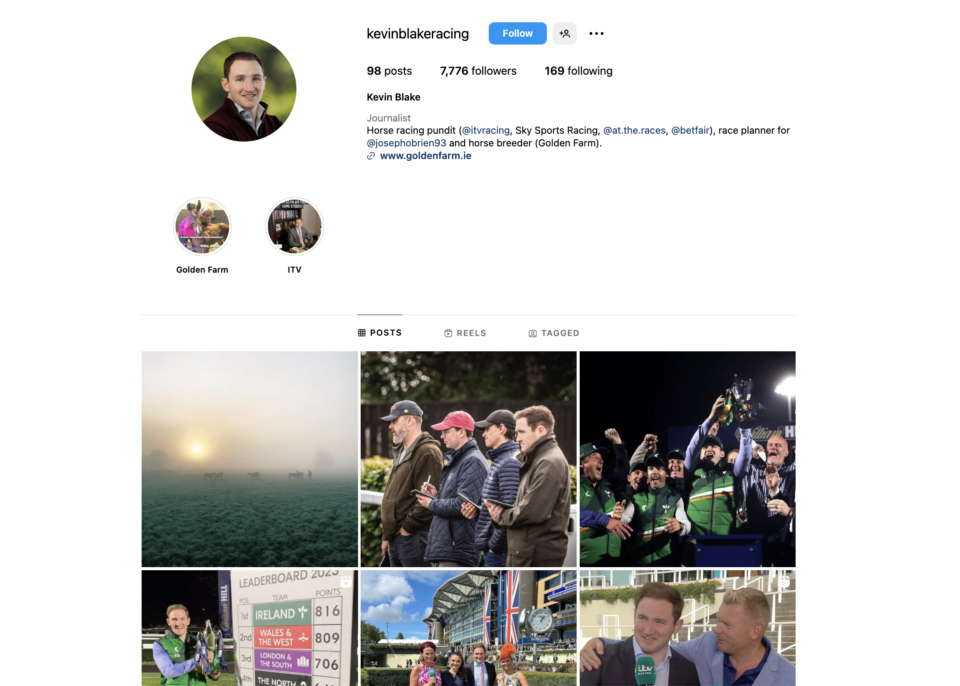 Indication Racing
Handle: @indicationracingclub
Speciality: Horse Racing
Followers: 5k+
Website: Betinum.com
Website: IndicationRacing.com
IndicationRacing is one of the industry's leading horse racing tipsters covering Flat and National Hunt Racing for profit all year round.
If you're looking for knowledgeable selections, then follow gambling influencers like Indication Racing. As well as enjoying picks and predictions, you will learn on your journey.
Figure out how to make smart choices on upcoming UK horse racing in November 2023.
Indication Racing Club offers an exclusive membership that supplies racing information.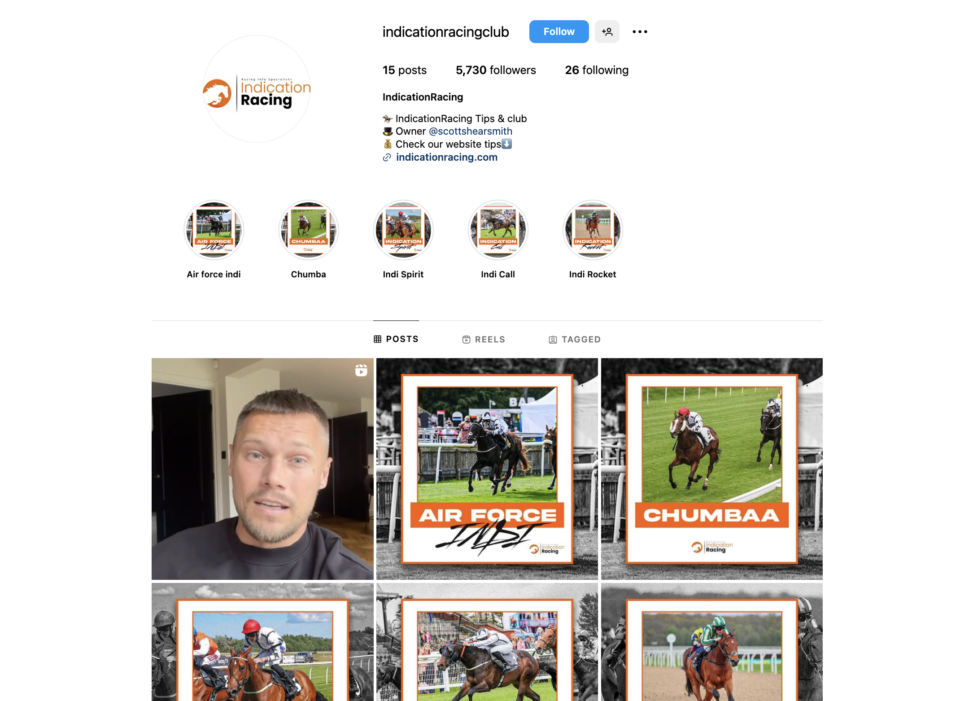 The Betting Geeza
Handle: TheBettingGeeza
Speciality: Football/Soccer
Followers: 24k+
Website: N/A
The Betting Geeza hides behind an animated design, one that's pretty cool and comes with plenty of personality.
Despite the concealed identity, we've recently noticed some great tips. His best bets are challenges such as accumulators, tips of the day and the £20 – £1,000 challenge.
There's a great community on his IG with plenty of colourful graphics and some funny, interesting videos, to say the least.
Marves Fairley
Handle: Vezino_Locks
Speciality: American Sport
Followers: 19k+
Website: N/A
Known for his podcast and entrepreneurial content – Marves also offers some insights into boxing, NBA, NFL and NCAA Football.
He's an interesting character who not only offers advice on sales and running a team but also delves into some of his passions. Enjoy the different sports he covers and listen to some of his news and content.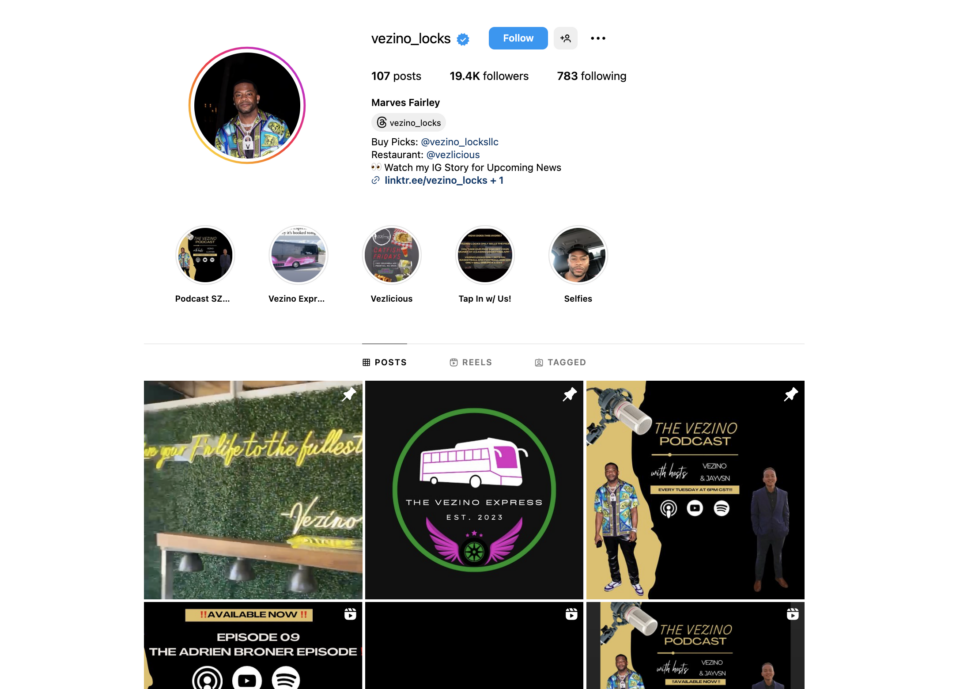 Santino DeFranco
Handle: SantinoDefranco
Speciality: MMA
Followers: 11k+
Website: N/A
Are you looking for MMA tips? Santino is a former UFC fighter who posts about his career, but he also focuses on upcoming MMA and boxing bouts.
If you want some picks and predictions on the UFC or boxing, then you will want to give him a follow.
Try your luck with his advice, as he provides picks for fights coming up.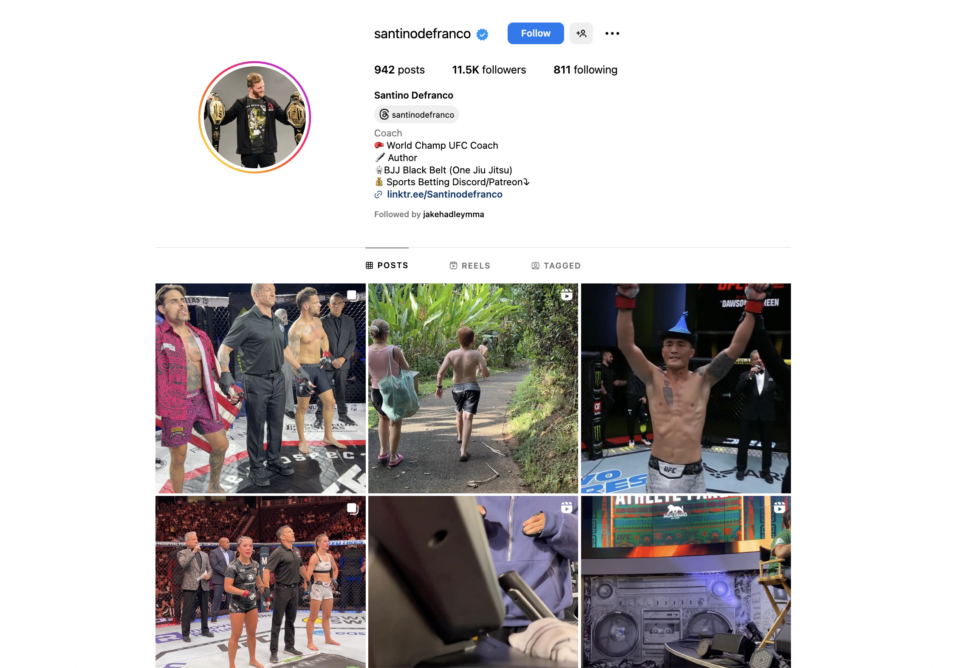 Rick Gehman
Handle: RickRunGood
Speciality: Golf
Followers: 2k+
Website: N/A
Rick uses analytical data on golf to provide some incredible picks. As a host of CBS Sports, you're in safe hands.
Rick takes his tips seriously and offers regular updates on events that are coming up. He analyses the players currently on a hot streak big tournaments and delves into all of the data that many others won't dare to go through.
He saves you a lot of leg work and picks out some great bets with incredible odds.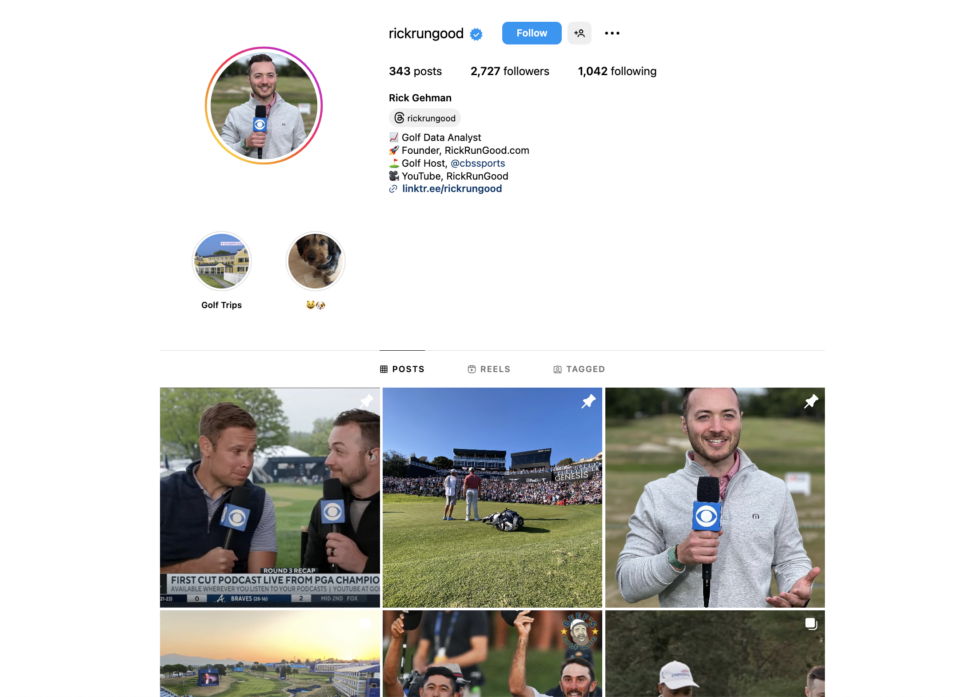 CP Betting
Handle: CPBetting
Speciality: Basketball & American Football
Followers: 90k+
Website: N/A
CP Betting is one of the most popular influencers and is super-fun, with lots of videos and memes on their channel.
They do make some great picks and encourage you to create multiple predictions on the biggest sportsbooks. But if you are looking for accurate picks on horse racing and UK sports, then you will want to scroll to the top of our list.
They offer lots of multiple bet options with regular parlays on their page.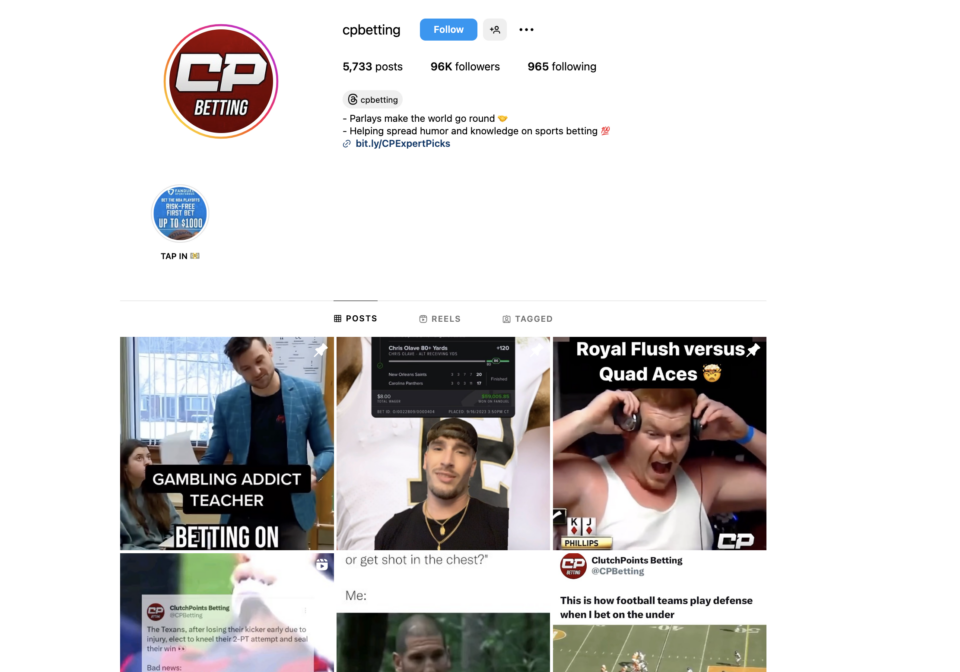 Footy Accumulators
Handle: FootyAccums
Speciality: Football
Followers: 90k+
Website: N/A
Footy Accumulators first took off on Facebook and have been growing at lightning speed since, their Instagram now boasts over 300k followers and recognition from UK celebrities.
If you are into football, yes, football. We mean the English game, then you'll want to be following these guys.
As their name depicts, they're experts on multiple picks. They offer small odds picks with bankers and long shots with huge odds.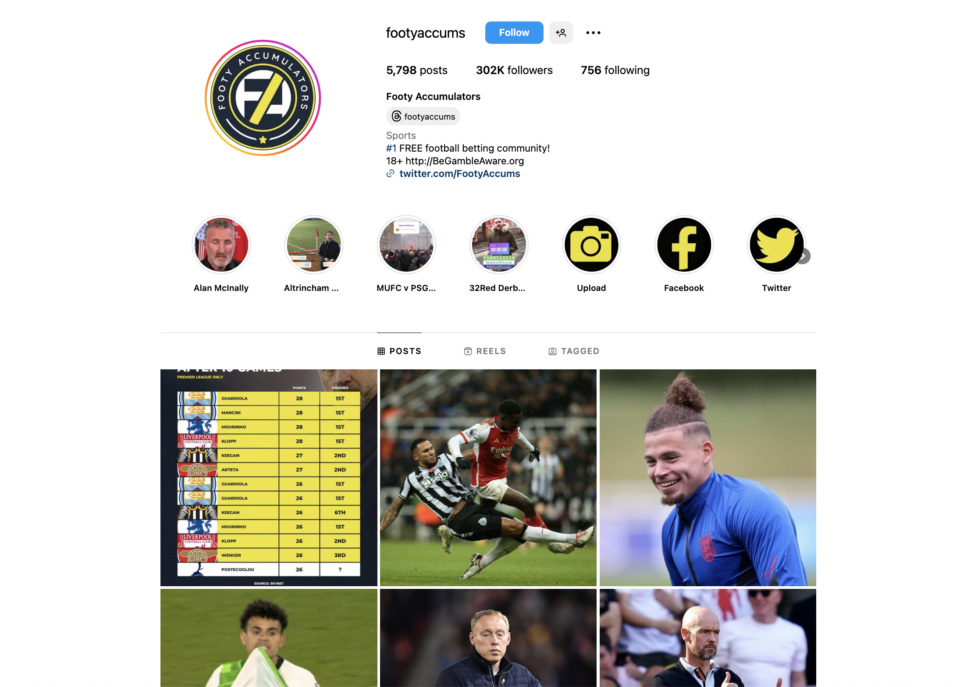 Where Else Can You Follow Sports Betting Tipsters?
In addition to Instagram – you can also check out their other pages. Most professional bettors or gambling personalities have a website and numerous social media accounts.
The best place to look out for tipsters is the following:
Their personal website
Their brand's website
Telegram
Facebook
Instagram
What Are Gambling Influencers?
Influencers is the word coined for those on social media with big followings. But as time has passed, the meaning has extended to any social media account with reach or a reputation.
When it comes to gambling influencers, we define them as online influencers that offer sports tips that boast a large engagement rate.
How We Pick the Best Sports Bet Instagram Accounts
When looking for who to follow for sports betting, we take several factors into account.
Here's what you should be considering when looking for sports betting Instagram accounts:
Reputation
It goes without saying that we only pick out reputable tipsters on Instagram. This includes looking for verified sources outside of social media.
Anybody can create an account and offer tips – it's best to cross-reference your tipster. Do they have a Twitter account? Are they recognised on other bigger sites? Have they won awards?
Check their reputation before blindly following a tipster online.
Track Record
A proven track record is a must – we enjoy looking through Tipster's past results. If they are serious sports bettors, then they will have all of their history available for you to browse.
Take a look at their success rate and find out whether their tips are good enough to take note of.
We have sorted our list by the gambling influencer with the best track record and then factored in some of these other qualities as a secondary measure.
Free Tips
We prefer tipsters that offer at least some free tips. We wouldn't expect the best tips to be completely free, but to be able to get a taste of what they're providing is key.
That's why we love following our favourite tipsters on Instagram. They usually give us a dose of their NAPs of the day or run down on upcoming events.
You will usually leave that page to eventually purchase a subscription for the picks with bigger potential wins.
Variety of Bets
A variety of bets is something we look at; we enjoy NAPs of the day, multiple bets, singles, outsiders and bankers.
Don't opt for one-dimensional accounts. It's also great to have different events covered.
With that said, we don't like sports punters that spread themselves too thinly. We like them to be experts in only one or two sports.
Subscription Fees
Reasonable sub-fees go a long way – but this needs to be weighed up alongside their track record.
Profit is profit. And if you have to pay bigger fees to access that, then it could be worth it. But you don't want to be let down in the first month, so be sure to do your research.
We're here to help you, so use some of our picks to guide you on your top gambling influencer.
FAQs
How to Prove a Sports Betting Influencer is Legit?
Check your tipster through other verified sources. Google them, check them out on other social media platforms and take a look at their profits.
Are Sports Betting Tipsters Worth It?
Sports betting tipsters are only worth it if they make you profit. Check out their free trials or check their track record before joining them. You can't expect profit every single month, but certainly, keep an eye on the tactics and how much money you're staking.
Find out their aim; if the strategy is to be profitable over a set period, be sure you aren't overspending and that by that set date, you are meeting the target.
Summary – Final Thoughts
There are plenty of pretenders out there – so be sure to do your homework and use our guide for help.
We love to find horse racing tipsters, but this list showcases all sports betting tipsters. Hopefully, you can easily find the best person to follow for sports betting using our list.