Tote Win betting offers a unique approach to wagering on horse races.
Unlike fixed-odds win betting, where bookmakers set the odds based on their own predictions, Tote Win bets allow you to bet into a shared pool for the race.
The dividend you receive is solely determined by the proportion of money bet on each horse in the pool.
Fixed Odds Vs ToteWin
The main difference between a totewin bet and a fixed odds bet is the Tote Win is a parimutuel bet placed and pays out higher dividends.
Savvy sports bettors will always wager a Tote Win bet over fixed odds betting because of the higher dividend payouts.
A totewin and fixed-odds win single is the same bet type where you try to predict the winner of a race.

Tote win bets pay more money than fixed odds win bets (more often than not) and therefore shrewd punters will always choose the Tote Win as their preferred option.
Totewin Pays More Than Fixed Odds Win Bet Examples
Here are several examples of tote win bets paying more than a fixed odds win bet in December 2023:
1:55 at York Races the Tote Win paid £21 compared to just £17 with the bookies' win bets #totewinpaysmore
2:40 at Catterick Races if you bet win at the tote.co.uk you got paid £25 compared to just £21 with the bookies' win bets #totewinpaysmore
3:50 at Lingfield Races the ToteWin paid £9 compared to just £7 with the bookmakers win bets #totewinpaysmore

Every single day over 62% of races the Tote Win pays more than the betting shop fixed odds starting price.
The Advantages Of Tote Win
Let's explore the advantages of Tote Win betting over fixed-odds betting.
Tote Win Offers Bigger Returns for Less Popular Runners
When analysing the betting market for a horse race, the forecast Tote Win dividends provide an accurate representation of a runner's popularity among bettors.
The forecast dividend for less-fancied horses can be significantly higher than the odds offered by fixed-odds bookmakers.
The forecast dividend for popular horses may be shorter. To address this, Tote Win introduces the Tote Guarantee.
The Tote Guarantee
The Tote Price Guarantee ensures that you will never receive less than the starting price (SP) on Tote Win bets.
If the Tote Win dividend for your selection is greater than the SP, you will be paid out at the higher price.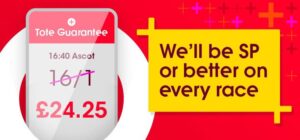 This guarantee applies to all UK races for Tote.co.uk customers, with a maximum stake of £500.
By offering at least SP or better, the Tote Win bet becomes an attractive option even when backing favourites or top-market horses.
The Tote Plus Bonus
The Tote Plus betting promotion gives horse racing punters who wager bets on the Tote mobile betting app or tote.co.uk website an extra 10% payouts on top of the dividends.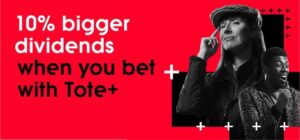 10% Higher Payouts When You Bet With Tote+ is a big reason why the ToteWin bets are great value when compared to fixed odds SP prices.
ToteWin Welcome Offer
Try out the welcome bonus on Totesport.
Sign up to the Tote and claim your £20 free bet when you deposit just £5.
Tote BET £10 GET £30
New customers online only. £/€10 min stake (if EW then min £/€10 Win + £/€10 Place). Receive £/€30 Tote Credit within 48 hours of qualifying bet settlement. 7 day expiry. Qualifying bet is the first racing pool bet added to the bet-slip. 18+. Full T&Cs apply. BeGambleaware.org. #AD Full T&Cs apply.
Full T&C's Apply
Can I Place an Each-Way Tote Win Bet?
When placing a Tote Win bet on the Tote website, you have the option to select "Choose each way" on the betslip. This allows you to place an each-way bet.
However, there is a distinction between Tote Win each-way bets and those offered by fixed-odds bookmakers. In Tote Win each-way betting, the win part of your bet goes into the Tote Win pool, while the place part goes into a separate Tote Place pool.
The Tote Place dividend you receive if your horse places is determined based on bets made into the Tote Place pool, rather than a fraction of the win odds, as is the case with fixed-odds betting.
How is Tote Win Different from Fixed-Odds Win Betting?
The main distinction between Tote Win and fixed-odds win betting lies in how the odds and dividends are determined.
With fixed-odds win betting, bookmakers set the odds based on their predictions and opinions.
Tote Win dividends are solely influenced by the amount of money bet on each horse in the pool.
This means that the Tote Win dividend reflects the collective opinion of the bettors, making it a unique and intriguing betting option.
How to Create a Totewin Bet Via SMS Text Message?
Here is how to create a Totewin bet via text message off your mobile phone device:
Register your mobile number to your Tote betting account
Make sure you have enough balance in your tote account to cover your Totewin bets
Text 68683
Write the message in a simple format like "5  Tiger roll "
This video shows how to create a Totewin bet via text messaging:
The text message is similar to writing out a betting slip in the bookies:
There's no need to write "win".  The system will default to win.
There's no need to use currency symbols.  The system knows what currency your account is in
There's no need to tell us what race it's in.  If you use the horse name we'll find it
No need for pleasantries.  Say "please" or "thank you" and the machine will start looking for horses called Please & Thank You.  Keep it minimal
Your bet will be settled at the better of the Tote Dividend+10% or SP.  You will never get less than SP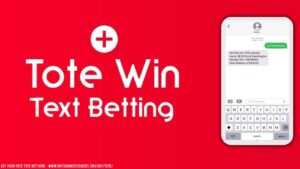 For more information check out our guide to Tote's SMS Text Betting Service.
Check out all the related Tote Pool Betting related posts.
Summary
Tote Win betting offers an alternative to fixed-odds win betting, providing potentially higher returns for less popular runners and a Tote Guarantee that ensures you receive at least the starting price.
Additionally, Tote Win each-way betting separates the win and places parts into distinct pools, resulting in different dividend calculations.